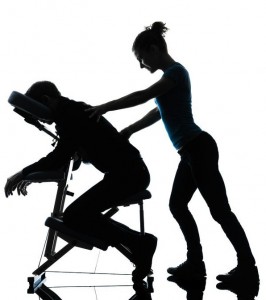 Onsite/Corporate Chair Massage -
Bring chair massage to your workplace or event! This is a convenient way to help show appreciation to employees or coworkers, as well as promote wellness in your workplace! Chair massage is also a great feature at any event that you are promoting or hosting.
All chair massage provided through Qi Shiatsu is a combination Shiatsu / Swedish massage, varying in time anywhere from 5-30 minutes (with 15 minutes per person being the most popular time amount). Scheduling your chair massage event is simple - simply contact Jessica to arrange date, time and details (how many people potentially participating, time per person allowed, etc). Then, simply create a sign up sheet with time slots for participants to keep everything organized and timely.
Onsite Chair Massage Pricing Options -
Per Minute Rate - $1 / minute - most common when individuals are paying for their own massage
Hourly Rate - most common when company or host is paying for entire chair massage event
1 - 2 HOURS - $70 / hour
3 - 4 HOURS - $65 / hour
(MAXIMUM 4 HOURS AVAILABILITY PER EVENT)
Potential chair massages provided per hour -
10-minute massage - 4-5 participants
15-minute massage - 3-4 participants (MOST POPULAR)
20-minute massage - 2-3 participants
These services cannot be scheduled online. Please contact Jessica for more information at (605) 310-2733 or qi.shiatsu.massage@gmail.com